How To Create & Set Up Google My Business (2023 Guide)
Before even creating a listing, it's important to know the Google My Business ranking factors. Knowing which factors influence rankings will help ensure that the listing is properly created and optimized.
Google My Business (now called Google Business Profile) plays a major role in Local SEO and online visibility. This is because over 88% of local searches result in a call or visit within 24 hours, and localized searches that include "near me" have grown by over 900% (ex: "plumbers near me").
For product and service-related searches, Google (almost) always provides localized results.
This result is also known as Local Pack, and appears in nearly 30% of all Page 1 results.
Getting featured here requires having a Google My Business Listing…
Follow these steps to create and set up your Google My Business listing:
1. Sign in to a Google Account
To manage or create a Google My Business Listing, you'll need to login to a Google Account. This is just an email…
If you don't have one, just create a Gmail account – it's free.
2. Log in to Google My Business
After logging in to a Google Account, head over to the Google My Business account creation.
And click the Manage now button in the top right (see below)…
This will start the next steps of creating a new Google My Business profile…
3. Enter the name of your business
Next, you'll enter the name of your business.
Here's (about) what you should see…
Pro Tip: This field has an autocomplete feature to help determine if a listing already exists. If your business name pre-populates, this means that there's a pre-existing listing (or a business that also shares the same name). Instead of creating a duplicate, you'll want to claim the listing that already exists.
After continuing, you'll just confirm the business name.
Now is a good time to consider NAP (Name, Address, Phone) info, which influences local rankings.
Pro Tip: To improve chances of ranking your Google My Business Listing, you'll want to make sure that NAP information is consistent, which can be done by storing the data in this spreadsheet for easy copy & pasting when building local citations.
Next, we'll be adding a business category…
4. Choose a primary business category
One of the biggest rankings factors are Google My Business categories, which strongly influence what searches will trigger visibility for your business in Google Search.
After choosing a primary Google my Business category, it is possible to add up to 9 secondary categories.
These categories should accurately reflect your business and it's services, and can be changed at any time to reflect seasonality or other changes.
4. Add your business address
If your business has a physical location where customers can visit, choose the appropriate option…
Select Yes if customers are able to visit your physical address. If there isn't a physical location where customers can visit, select No.
Afterwards, just enter the business's address.
If you selected No for the option above, this is commonly referred to as service area businesses (also called SABs), meaning that the business delivers goods and services to customers. If you choose this option, your address will be hidden in search. Instead, Google will show a service area on your listing based on the localities that you've selected as service areas.
All services area businesses are eligible to specify service areas…
5. Specify service areas (only for service area businesses)
Specifying service areas increases relevancy, so be as detailed as possible here in order to have a completely optimized Google My Business Listing.
Adding service areas can influence where a listing is shown, and it's possible to list up to 20. However, you're unlikely to get much benefit in areas that exceed 15-20 miles outside of your verified address due to how proximity works as a ranking factor.
Pro Tip: To get the most out of the service areas, align them with business goals. Focus on a broader service area, and then get as granular as possible by listing additional cities and zip codes within the target service area. See this guide on Google My Business services areas for more tips and info.
These fields can either be a County, specific City within a County, or a specific Zip Code.
7. Add your phone number and website
In order to be eligible for verification, Google requires that either a phone number or website are present.
If your business does not have a website, I strongly recommend creating a local SEO landing page one as part of your search engine optimization strategy. Doing so will improve your chances of ranking, and help build backlinks from your Google Business Profile to your website.
Pro Tip: Next, you'll be prompted to verify your listing. However, to ensure your listing has the highest chance of getting verified, complete your listing by following the steps and adding the business information outlined in the next section.
8. Complete your listing
This is the home stretch (almost done).
On average, businesses that have completed Google My Business profiles receive more visibility and customer engagement.
This includes adding some additional business information…
Add your services
If you skipped verification, you'll be prompted to add your services.
Depending on the business category you selected earlier, you'll see a list of relevant services.
This is a great opportunity to add keywords and showcase your services on your Google Business Profile, which will allow customers to view this information in Google Search.
Note: Services can be added or updated in the Services section within the Google Business Profile Manager dashboard.
Add business hours
Let customers know when your business is open by adding business hours.
Enable messaging
Next, you'll be able to enable messaging.
This allows customers to message you directly, and manage an inbox directly within the Google Business Profile Manager dashboard.
Note: The messaging feature can be enabled or disable in the Messages section within the Google Business Profile Manager dashboard.
Add a business description
Although business descriptions are unlikely to contribute rankings, it does contribute to profile completion.
Adding keywords here will not give you any major rankings boost. Instead, focus on writing a quality Google My Business description. This section should be used to provide additional context about your business that makes it unique and why they should choose you.
Once added, the business description will be visible in search.
Note: A business description can be added or updated in the Info section within the Google Business Profile Manager dashboard.
Add a business logo
Adding a logo to your Google My Business also contributes to profile completion.
A logo can be added using the "Photos" tab.
Note: The Google My Business logo size is 720 x 720 pixels, and should be uploaded as a JPG or PNG image. Additionally, it should not contain any excessive edits.
The logo will then be visible on your listing in Google Search.
Just like this…
It's important to upload high quality photos to represent your brand.
Add a cover photo
The cover photo is another type of photo upload that contributes to profile completion, and can also be added using the "Photos" tab.
Note: The recommended Google My Business cover photo size is 1024 x 575 pixels with a 16:9 aspect ratio. Like the logo, it should not contain any excessive edits and should accurately represent and showcase your business.
Once this has been completed, there's just one more step before verifying your listing.
Add an opening date
Google has a field specifically for an opening date…
Setting this can help create uniqueness, disambiguate businesses with multiple locations, and also help businesses appear in Google's Knowledge Graph.
Completing this field will also ensure your business is eligible to show the "years in business" snippet for local searches (see below), which can help build trust with potential customers.
Add attributes
Although it doesn't contribute to the completion score, it's important to add Google My Business attributes to your profile.
This provides users with more information about your business, and can be extremely beneficial to restaurants and other businesses (such as hotels). Adding business attributes can also add extra search engine results page (SERP) features for your business.
Once the Google My Business profile is 100% complete, it's ready to verify…
9. Verify your listing
Google My Business Listings that are verified will be eligible to show in Google Search.
The most common method for Google My Business verification is by postcard.
Just enter the business's mailing address. Using this method, a postcard from Google will be sent to the address provided within approximately 5 business days.
It's also possible to verify your Google My Business by phone or email, but this is generally not available for new listings to prevent spam and fake profiles.
How to track rankings
Now that you've set up your Google My Business listing and it is visible on Google Search, I recommend tracking its performance.
This means tracking keyword rankings in Google's Local 3-Pack.
One of the best tools for this is Local Viking's GeoGrid Tracker, which provides a visualization of rankings in a set service area.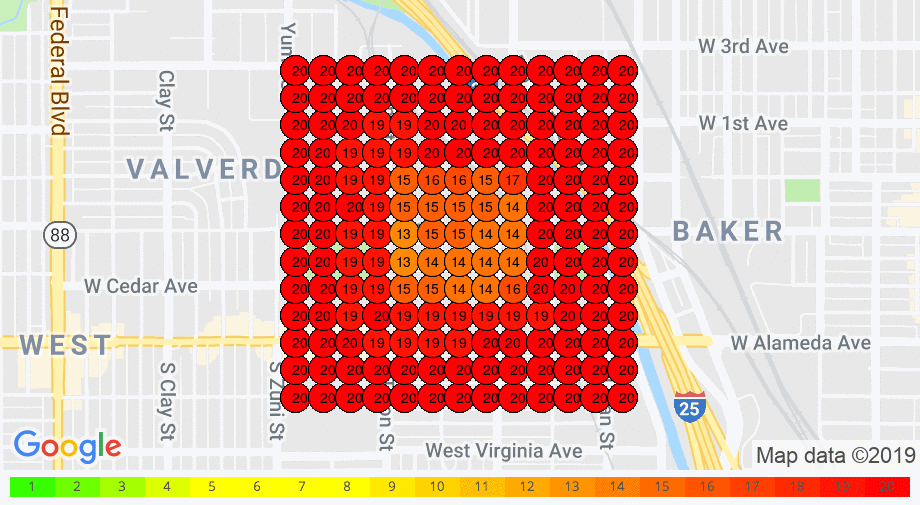 They also have a complete dashboard for managing Google My Business. Alternatively, you can use Google My Business insights for free to track performance. However, it's limited in terms of reporting and the value it provides for SEO.
Taking the next steps…
After collecting some data, it's time to optimize your Google My Business Listing.
This includes:
If you're still unsure, use this Google My Business audit template to improve your listing. The creation and setup of a Google My Business profile is just scratching the surface of a Local SEO strategy, but this step-by-step Google My Business setup guide should help ensure that you're on the right track.
Happy SEO-ing 🙂