Local Citations – A Complete Guide For Local SEO
A key component of local rankings are attributed to Local Citations or Citation Building. This is because they contribute a considerable amount to Google's Local Rankings Factors (approximately 10%).
In this Local Citations SEO Guide, I'll cover:
What Are Local Citations?
A local citation is an online mention of the name, address, and phone number for a local business. This is also known as "NAP" info, which helps users find local businesses, and also impacts Local SEO rankings. Local citations may be built and managed by business owners or SEOs to improve search engine visibility and NAP consistency.
The Different Types of Local Citations
Local Citations can be categorized as follows:
Local Business Listings
Data Aggregators
Niche Listings
General Listings
Local Business Listings
If you're just starting out, Local Business Listings are what you'll want to prioritize.
This is because they're the most impactful.
Below, you'll find listings that are the most important for local rankings, and where to get started on building them:
Each of these listings are free…
And should be kept that way ( don't pay for Yelp 🙂 )
Here's why each of them are SUPER important
Google My Business Listings
This is the one listing that rules them all…
This is because of Google's Local Pack results.
Ranking in Local 3-Pack can generate TONs of leads or in-store traffic for local business.
You'll also get a nice little dashboard to report activity like calls and website visits.
Without a Google My Business Listing, your chances of ranking in Local Pack are 0.
This is also how customers discover and find businesses in Google Maps…
For those requesting directions or using voice search, data is going to be sourced from Maps.
Bing Places Listings
Although it's not the #1 search engine, it's still comes in second…
And they also have a similar version of Local Pack, which can be a source of traffic and business.
Apple Maps
For those with iPhones, Apple Maps is pre-installed.
This makes it a highly used App for those who request directions and use it to find local businesses.
Yelp
Probably, the most highly criticized (If you know, you know)…
But having a free Yelp listing is still beneficial.
For example, their reviews are sourced to Apple Maps…
This is because it's still a frequently used search engine.
Facebook Business Page
A very worthy mention here is a Facebook Business Page, which also serves structured NAP (Name, Address, and Phone Number) information.
Facebook Reviews and Engagement also contribute to Local SEO Rankings, and their reviews can also be featured on GMB Listings…
It's also common for Facebook users to ask for Recommendations, which can be a free and User-Generated source of referrals for local business…
Data Aggregators
Data Aggregators distribute and source NAP information to local directories.
This 4 Main aggregators include:
Infogroup
Neustar Localeze
Factual
Foursquare
Leveraging data aggregators to build local citations is like putting things on autopilot.
Niche Listings
There are tons of industry-specific (niche) listings out there.
It's extremely common to see these for attorneys and dentists.
General Listings
General Local Business listings are those that are well…general.
These can also be a good source of backlinks.
For example, getting listed on the local Chamber of Commerce would be a citation to have because it includes a backlink.
How To Build Local Citations
Local citations can either be structured…
Or unstructured…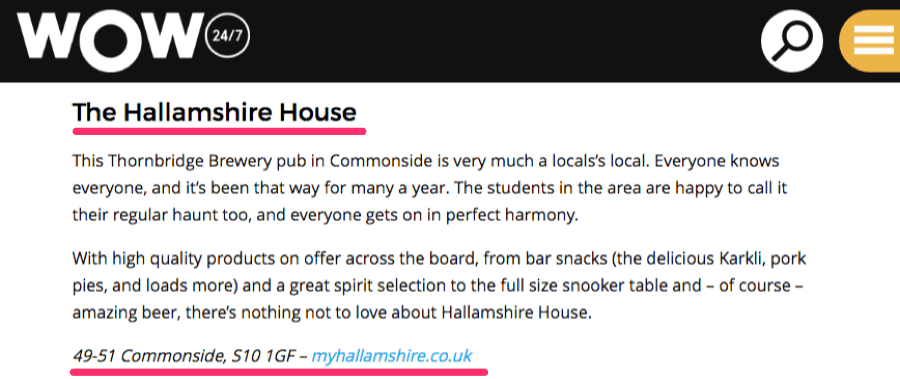 This simply means that NAP data is present, often with a "structured" format as opposed to "unstructured" with casual links.
I always recommend manually building the most important Local Citations.
When automating or outsourcing local citations, important fields or optimizations can be overlooked.
Once high priority citations are built, I recommend outsourcing or automating the rest to save a TON of time…
How To Automate Citation Building & Reporting
BrightLocal is a Local SEO software that makes citation building super easy with an all-in-one dashboard…
Plus, they offer a Free 14-day Trial.
Within their citation tracking dashboard, it's easy to view NAP Errors…
And it's also easy to fix them and build new citations…
It's also possible to track rankings and the progress of Local SEO Campaigns…
While having 100s of citations for a single location is rarely necessary…
It depends on the level of local competition.
There are tons of other factors that affect Local SEO more than additional citations.
Within the Dashboard, there's also a Local SEO Audit that provides actionable insights after the first 25-50 citations have been built.
Using these insights, it's to determine the next steps for your Local SEO Campaign…
Happy SEO-ing 🙂