Google My Business Checklist & GMB Audit Template
Use this Google My Business checklist and audit template to improve local rankings, traffic, and lead generation for your business.
I've used this exact template to get some massive SEO wins for local businesses…
And it's SUPER easy to use.
The Google My Business Checklist
Use this Google My Business checklist as a step-by-step process to audit and optimize your business listing:
1. Identify Local Competitors
Before even creating a Google My Business Listing, it's important to understand what's working for competitors.
Identifying local competitors can be done with a simple search.
In your search query, use target niche or Primary Google My Business category + target location like this…
These are your top 3 competitors for customers searching in your location.
Pro Tip: For some, this keyword can be difficult to identify. If this is the case, try using this complete list of Google My Business categories to find relevant categories by searching for your services.
What exactly does this mean?
The closer a searcher is to a GMB Listing, the more likely it is to show.
This is because proximity is one of the biggest local ranking factors.
You can find your search location at the very bottom of the screen.
Also, you'll find related keywords here.
Now that we've established the competition, and our search location, we're ready to move on to the next step.
2. Audit The Competition
For this next part, we'll be using the Google My Business Audit Template…
Enter competitor Business Names as they appear on the listing.
Then add the target keyword and location as we found in the previous step.
Let's begin by filling out the first two rows of the audit for Competitor #1.
For this step, we're just reviewing whether the target keyword (or variation) is in the listing title along with the location.
In this case, the competitor has their primary keyword "plumber" as a variation in their title as "plumbing."
They also have their target location, "St. Louis," in their listing title.
Here's why it's extremely important…
In one of the biggest local SEO rankings studies, Moz found that one of the biggest ranking factors are Google My Business Signals.
However, Google's Guidelines state that you must use your business's real name without any legal suffixes or keyword modifiers.
Pro Tip: Although it's a ranking signal, it's one of the most common reasons for GMB suspensions. If you notice competitors are adding keywords to their GMB titles, you can report them by suggesting an edit to their listing. As a result, this will revert their business name, and remove any rankings boosts they may have been receiving.
Next, let's look at whether the competition has a website and an address.
This competitor has a website, but not an address…
Now, we're ready to do a primary and secondary category audit.
So head over to Google Maps, and find the competitor's listing.
Copy the Primary Category into the appropriate column and row.
GMB categories are another ranking signal that has a high impact on rankings.
Pro Tip: Note the URL in the previous image. Copy it, and paste it into Column D2 in the template sheet to replace the "#". This will make it possible to easily access the competitor's listing at any time.
Next, we can find their secondary categories…
In this case, our primary competitor doesn't have any additional categories listed, which is common for plumbing companies.
Here's any example of a roofing contractor with several secondary Google My Business categories.
Enter any additional categories into the audit template.
Also, add in the competitor's Google Review Data (star rating and review count)…
To complete the next several rows, I've found it's best to review on a mobile device rather than desktop.
For this, we'll be auditing competitor…
Business hours
Photo upload count
Most recent Google My Business Post
Just enter the data into the template…
To finalize, we're just going to audit the competitor's landing pages. I won't go through this into a ton of detail to keep things concise, but here's what you should know…
All Google Listings have at least 1 field to place a website link.
Depending on the category of listing, there a few different options:
Website – the standard "Website Button" of any Google My Business.
Appointment – sends customers to a form or booking page for service-based businesses.
Menu – restaurants have menu links to direct users to their website menu.
What we want to do is audit the competitors' landing pages (where their GMB links go) to identify opportunities for ourselves.
In this example, our competitor's landing page goes to their homepage…
This is never a bad thing, especially for single location businesses, but it could use some improvements.
Here's how this looks in our audit…
Let's take a second to compare our previous landing page to another competitor…
This page has a modern design, good call to actions (CTAs), and incentives purchases further down the page with coupons (lead magnets).
Pro Tip: These were desktop examples. It's also extremely important to audit competitor landing pages on a mobile device too. Of course, it depends on your industry, but a mobile device is likely how customers are going to be finding your business.
When optimizing your Google My Business listing, you'll also want to be mindful of competitors' URL structure.
For example, are they sending traffic to their homepage or a localized page?
Pro Tip: Location pages can be a great relevancy signal that your business services the area within the URL. For example: domain.com/locations/colorado/denver
Let's move on to creating an optimal title.
3. Listing Title Optimization
Google My Business Signals account for 25% of Local Pack ranking factors. This includes proximity, categories, and having the keyword in the listing title.
Here's how we're going to optimize our GMB Listing title…
Reference the competitor audit, and find common denominators in competitor titles.
For example, does the top ranking listing in Local Pack have the target keyword AND/OR location in their title?
Answering these questions, and optimizing accordingly can make for some quick wins.
Pro Tip: The easiest way to have a naturally optimized title is to have your target keyword or variation. A good formula to follow is Brand Name + Keyword or Variation. For example: "Moto Sports Repair Shop." After recent updated, this may impact listings differently across different niches (even negatively) after the December 2021 update.
Just be sure to follow the Google My Business Guidelines, and make these optimizations at your own risk. Updating the Google My Business listing title to be anything other than your real business name may result in listing suspensions.
4. Optimize GMB Categories
Primary and secondary google my business categories have a high impact on rankings.
These are also a super quick and easy optimization if you've followed the Google My Business Audit Template.
Within the template, just review the common denominators for primary and secondary categories between competitors.
Pro Tip: This process can also be used to compare and optimize Schema Markup for local businesses.
Then use them as your own 🙂
5. Check NAP Consistency
You'll want your business's Name, Address, and Phone Number (NAP) on Google My Business to be consistent with all other local directories.
This includes Bing Places, Apple Maps, and Facebook.
These are also called Citation Signals, which account for roughly 10% of Local Pack ranking factors. It's nothing crazy, but it's such an easy win, and most local businesses don't get it right.
You can use BrightLocal to fully automate and track it with a dashboard to make it super easy.
Not having consistent NAP information can negatively impact your local rankings.
6. Add Website Links
Adding a website link to your listing allows customers to find more information about your business.
It also creates opportunities to incentive customers with offers.
As a result, this can lead to some organic rankings for your website.
7. Set Accurate Business Hours
Having defined business hours is extremely important for Google My Business optimization.
Adding business hours contributes to your listing's completion, and listings that are incomplete receive significantly less visibility in search. Also, business hours may increase the chances of Google showing your listing over a competitor if you have extended hours.
For example…
Company "A" has business hours of Monday – Sunday 7 AM – 7 PM
Company "B" has business hours of Monday – Sunday Open 24 hours
All things held constant, who's listing would you bet has position #1 at 9 PM?
Furthermore, special business hours should also be added for Holidays, and other days of non-operation.
This ensures that your business listing is always up-to-date with relevant information.
Step 8: Create Company Description
A company description is a brief, 750 character, paragraph that provides searchers with more context about your business.
Company descriptions likely don't directly impact rankings, so adding keywords here won't directly impact any SEO efforts.
However, having a set description does contribute to the Google My Business profile completion. This means not adding a description will impact your business's overall visibility.
9. Add Profile Short Name
Profile short names are a relatively new feature that creates a vanity URL for your GMB Listing.
As a vanity URL, there aren't any SEO benefits to adding keywords in the short name.
A clean, brand name makes it easy to remember, read, and share to generate Google Reviews.
The new feature also contributes to profile completion.
For multi-location businesses, I find that brand name + location work well, and it's is an easy naming convention to follow..
10. Upload photos
Photo uploads should be a recurring task for Google My Business Optimization.
Regularly uploading photos to your GMB listing is a signal of activity, and is metric tracked within the Google My Business Dashboard.
If you're uploading your first photos, I recommend this having these as a minimum:
Logo (1x)
Cover (1x)
Team Photos (3x)
Interior Photos (3x)
Exterior Photos (3x)
Product/Service Photos (3x)
Pro Tip: For home service businesses, it can be highly beneficial to add EXIF data to photos. This is also known as geo-tagging, which can expand the visibility of your GMB Listing's target service area. There are a few tools that make this easy. One of my favorites is Local Viking, which makes it possible to add EXIF data, track rankings, and review management.
Just be sure that the photos are high quality.
Here is what I recommend:
File type: PNG
Less than 5 MB (maximum supported file size)
Google My Business Logo Photo: 1080 x 1080 pixels
Google My Business Cover Photo Size: 1980 x 1080 pixels
Minimum Resolution: 1080 x 1080 (ensures high resolution)
It's also important that the photos are not pixelated or stretched to fit the above recommended sizing. The images should also not contain any extreme filters.
11. Listing Verification
If you're just setting up your listing, this is the most important step.
This is because newly created Google My Business listings won't show in search unless they have been verified.
For new listings, the best way to do this is by sending a postcard to the listing's address.
Alternatively, it's possible to verify by phone if the listing has been around for awhile.
12. Generate Google Reviews
Google Reviews account for the 3rd biggest Local Pack ranking factor just behind backlinks, making them essential to any Local SEO Strategy.
generate a Google My Business URL within the management dashboard to share a review link.
There are several platforms that automate this process like BrightLocal and Podium, which make it possible to send review emails to customers after they complete a purchase.
In addition to generating reviews, you'll also want to respond to them on a frequent basis.
Measuring Google My Business Optimizations
With the Google My Business Dashboard, it's possible to view insights for up to 90-days of data.
There are a couple different insights provided by Google.
Upon opening Google My Business Insights, you'll find Views in search.
This is a simple breakdown of where your listing is shown most – Google Search or Maps.
In the next report, we're able to see a bit more detail…
The Searches report separates branded search from discovery.
A "Direct" search means that your business name or address was used in the keyword. With a "Discovery" search, the user's query matches a product or service that is offered like "custom home builders near me". All of these queries used to find your business can be found in Insights.
The final tab of the Performance report details how searchers took action.
This report is likely to be the most helpful in directly determining the output of how your Google My Business optimizations performed.
Software like Local Viking that provide a high level look at keyword rankings with a geo grid view.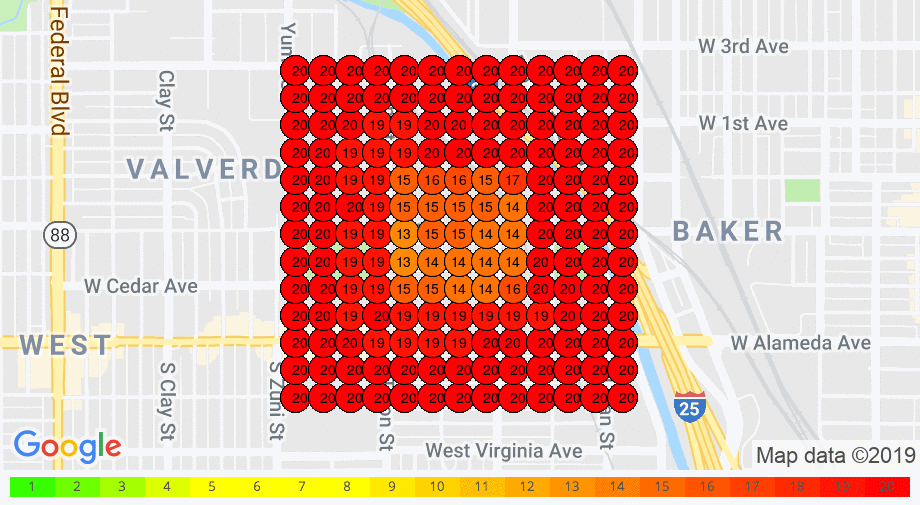 These insights provide some truly next level reporting and insights!
Leveraging Other Features
To keep things concise, there were a few features that I didn't mention.
Google's Posting feature can be used to gain a competitive edge and may send relevancy signals to Google. Using this feature also adds more real estate to your listing, but posts will only display for 7 days.
Like GMB Posts, Product Carousels also occupy more listing real estate, and can be used to send searchers directly to product pages.
There are also Questions & Answers that can be highly beneficial to your Local SEO campaign by naturally incorporating relevant keywords like this one…
Google has also continued to roll out unique GMB features to specific industry types.
This applies more to restaurants as convenience plays a major role. Now, it's possible for listings to feature a "Reserve a Table" button, and receive the GrubHub order feature.
Ultimately, your goal with Google My Business optimizations is to make it easier for customers to find AND buy from you.
Pro Tip: Once Google My Business has been completely optimized following these steps, it's important to apply the same optimizations to LocalBusiness Schema Markup, local citations and other local listings and directories. This is generally the next step in a Local SEO Campaign.
Leveraging these Google My Business Optimization tactics can be a quick and impactful way to generate more visibility in local search that leads to more sales.
Happy SEO-ing 🙂